GRC software that's smart, not complicated.
Built for businesses, advisors and managed service providers.
Explore the 6clicks alternative.
Discover the power of 6clicks
Uplift risk management, compliance, ISMS, ESG, cybersecurity and vendor risk management.
All in a fully integrated platform.
Unlimited content
Leverage built-in standards, frameworks, risk/issue libraries and templates or customize your own.
Multi-tenanted
Connect autonomous teams (Spokes) to a central Hub using our unique Hub & Spoke architecture.
Easy to use
Easily configure workflows, fields, registers, forms, reports and dashboards to meet your needs.
Powerful AI
Harness Hailey, our AI engine, for highly efficient GRC task and process automation at scale.
Anthony Stevens, CEO of 6clicks, discusses the company's mission and market differentiation.
Discover 6clicks pricing plans
With unlimited user access, no additional fees for content
or use cases and premier success.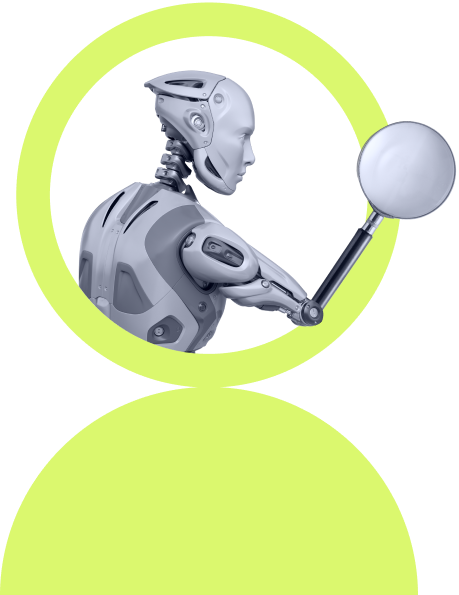 There are hundreds of GRC software vendors out there.
Why choose 6clicks?
Monolithic software
Everyone battles and creates a mess in the same system
Multi-tenanted
We pioneered connected, multi-team GRC; it's called Hub & Spoke
Superficial at best
Jumping on the bandwagon
First AI engine built for GRC
We started building in 2019 and continue to innovate
No
Priced separately or BYO
All included
100's of standards, laws and regulations, risk libraries, audit templates and more
Time and rate billing
Pay per hour or day
Included and predictable
From implementation to support for your success, we're there every step of the way
After thought
Like fitting a square peg into a round hole
The perfect fit
Embed your own IP, apply branding and scale with your clients
Highly complex
Pay per module, user, vendor, etc.
Simple: unlimited everything
Just pay per spoke
Discover how Hub & Spoke helps balance control and autonomy for GRC programs across distributed teams.
Explore our solutions for risk and compliance
Accelerate your path to success in cybersecurity, ESG, regulatory compliance and enterprise risk management.
Manage risk like never before
Your risk team can manage the entire risk lifecycle, from risk reviews, treatment plans, assessments and registers, to risk matrix, board and c-suite reporting and analytics. Better manage potential cyber, financial, operational or business risks with 6clicks. Ditch spreadsheets and experience a new way to do enterprise risk management.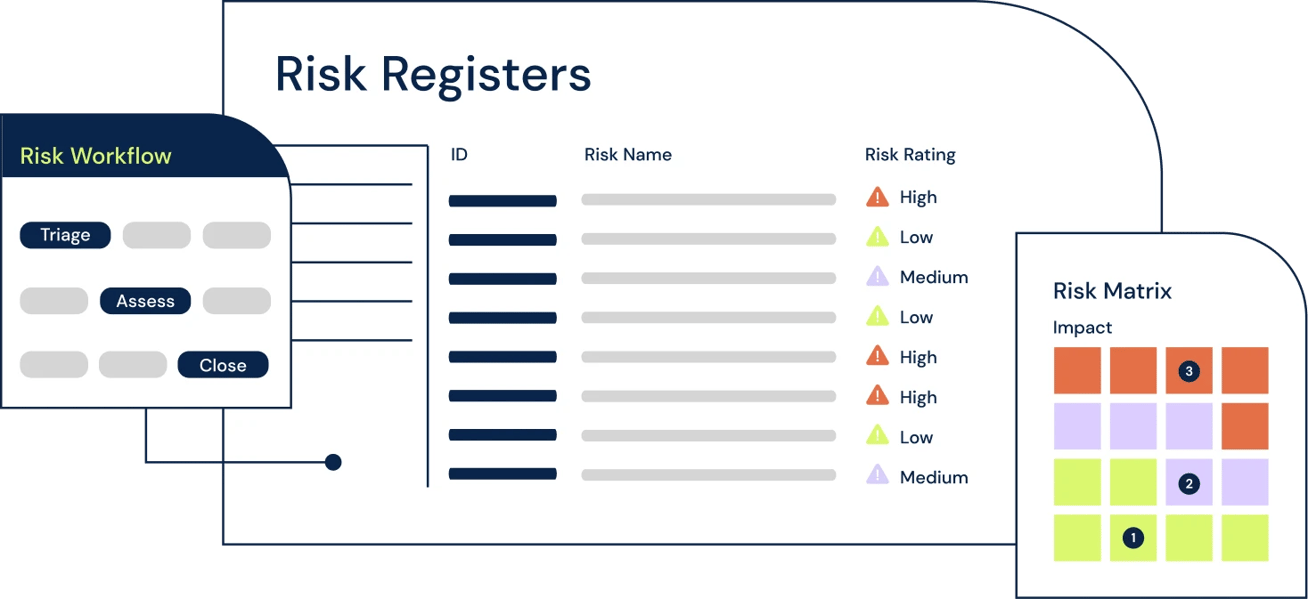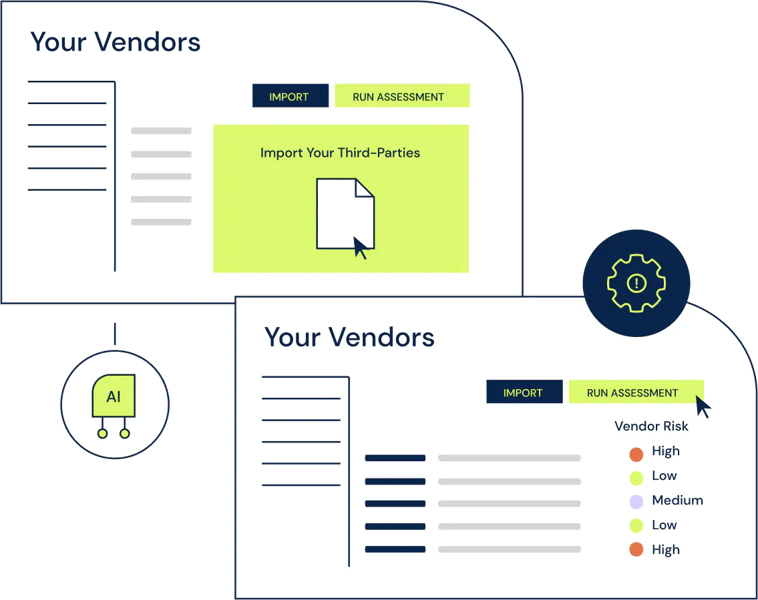 Control your supply chain
Import and manage your vendors, bulk run questionnaire-based vendor assessments across your supply chain and automate risk and issue identification and remediation. Empower your organization with third-party onboarding forms and workflows with 6clicks.
Automate regulatory compliance
Identify your obligations, define and manage internal controls and linked responsibility tasks, and run compliance mappings across relevant laws and regulations. Define your internal policies and ensure compliance with intuitive dashboards and reporting capabilities.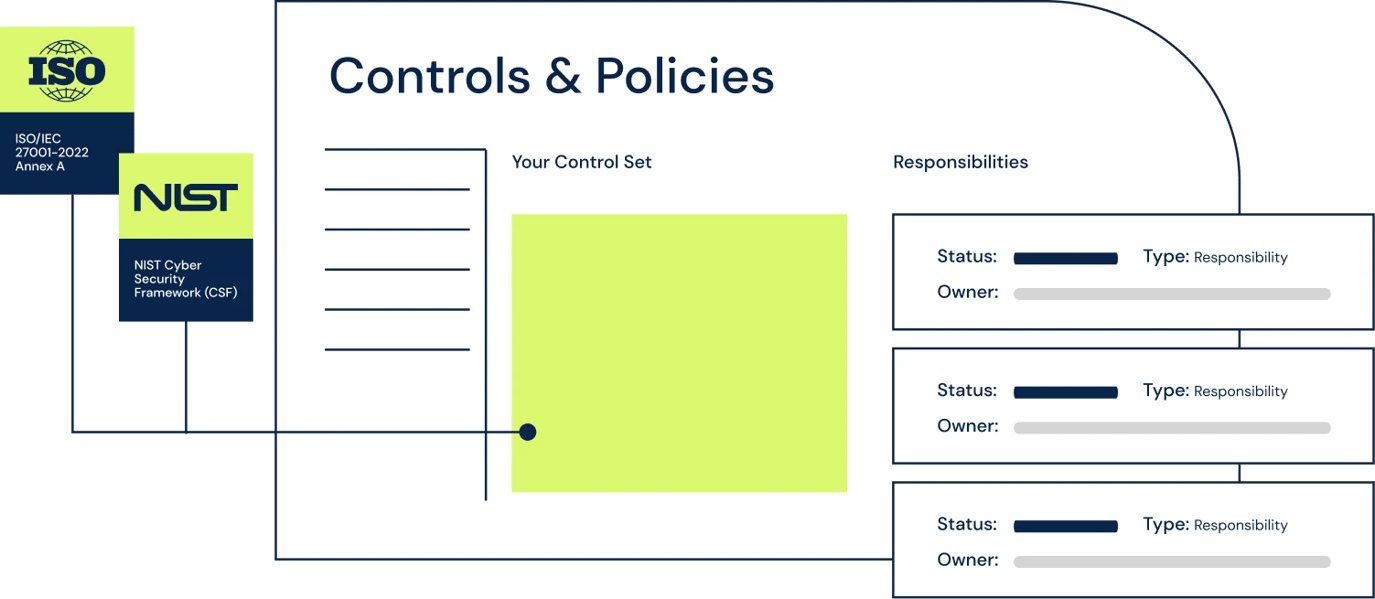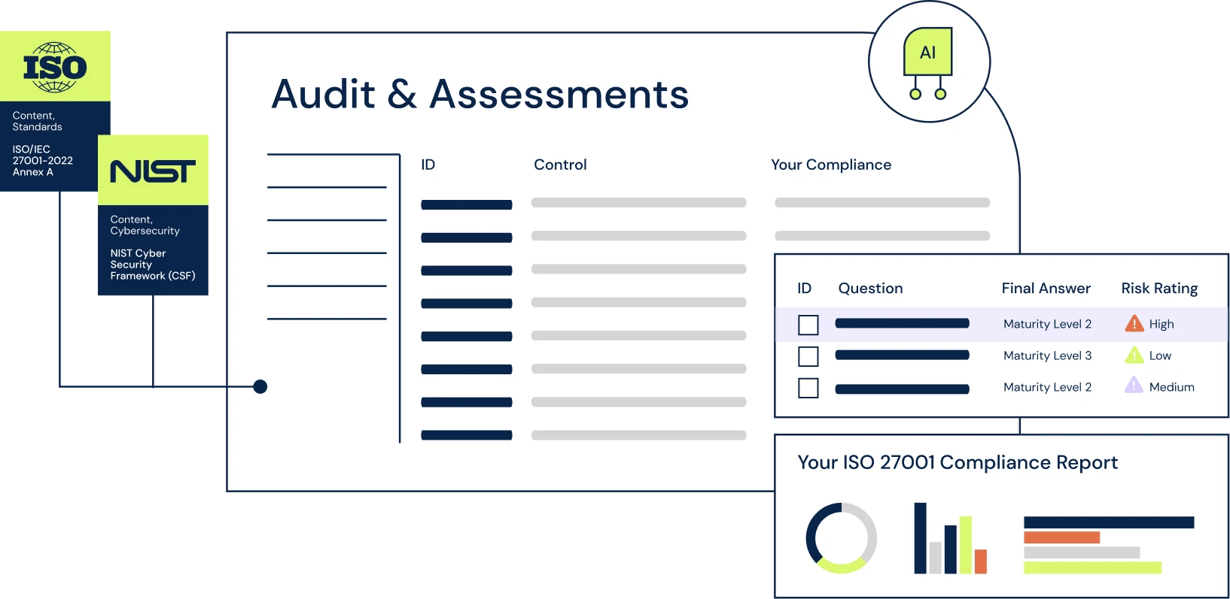 Streamline cybersecurity audit and assessment
Schedule, plan and run audits, streamline control effectiveness testing, collect evidence, identify compliance gaps and baseline your maturity, and define improvement activities. Manage the entire internal audit lifecycle with 6clicks.
Prove compliance and make better decisions
Confidently gain valuable insights into your risk and compliance programs through interactive reports and dashboards. Leverage our native reports or build your own, share reports with key stakeholders and make more informed strategic decisions with 6clicks.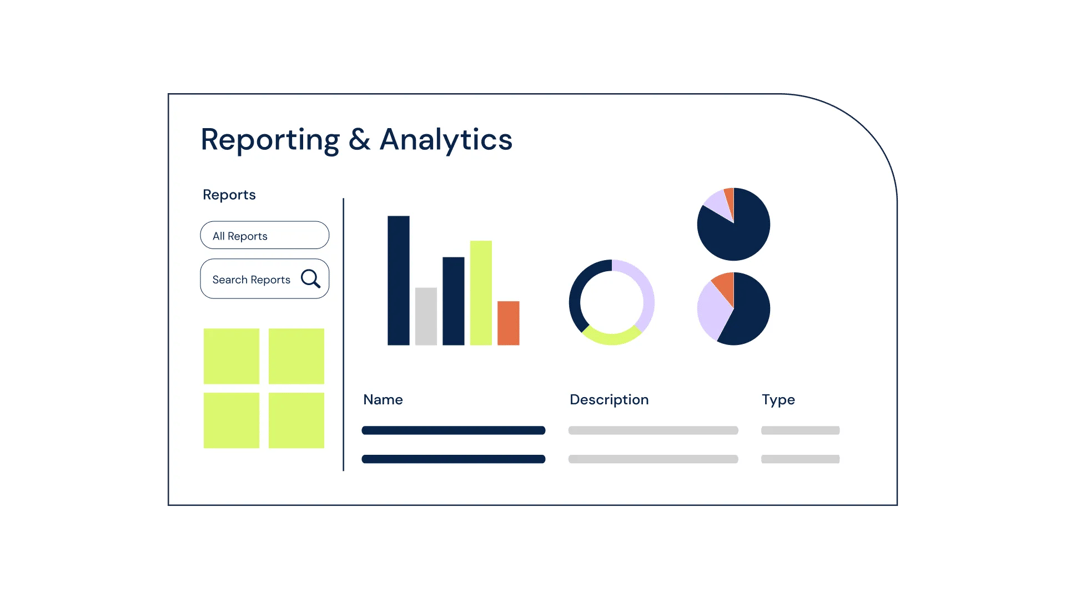 We believe you don't need months to implement GRC software
Stop wasting time with complicated pricing, longwinded consulting efforts and outdated technology.




Customers and top analysts have spoken
The best cyber GRC platform for businesses and advisors.
We chose 6clicks not only for our clients, but also our internal use
Chief Risk Officer | Publicly Listed
We use Hub & Spoke globally for our cyber compliance program. Love it.
Head of Compliance | Fortune 500
The 6clicks solution simplifies and strengthens risk, compliance, and control processes across entities and can grow and adapt as the organization changes and evolves.
Michael Rasmussen | GRC 20/20 Research LLC
I've been training on 6clicks here and starting to use it more. It's powerful. Very cool.
David P, Consultant | CyberCX
No issues or complaints with the broader team - the service, advice, and hands-on assistance they have all provided to assist with developing CSIRO's instance has been outstanding.