Introducing 6clicks Hub & Spoke
Built for organizations running a distributed risk and compliance function across multiple teams, business units or geographies.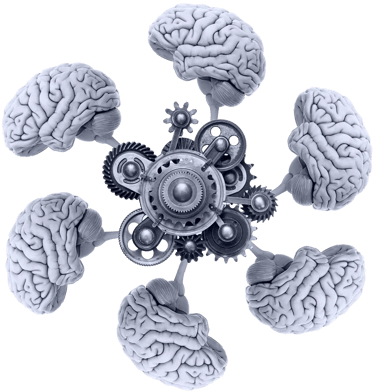 So what is 6clicks Hub & Spoke?
The 6clicks Hub & Spoke is the perfect solution for large businesses, multinationals, franchises, private equity firms, government agencies and MSPs requiring a centralized risk and compliance function that spans multiple teams, departments, or businesses. With the Hub & Spoke model, organizations can quickly and easily define the hierarchical structure that works best for them, which includes parent-child relationships between entities.
The hub makes it possible to define risk and compliance best-practice and content centrally, which is 'pushed down' to spokes (teams, departments, or businesses) that utilize the full suite of 6clicks GRC modules for day-to-day activities. Consolidated reporting and analytics are rolled up at the hub level, giving the organization comprehensive reporting and insights across all spokes.
Hub & Spoke accelerates adoption and deployment across a range of business models and use cases
Your business model
Are you managing GRC programs across:
Organizational divisions or subsidiaries
Regions and jurisdictions
Portfolio companies
Franchises
Healthcare networks
University systems
Local, state or federal government
departments
Use cases
Are you addressing requirements like:
Providing GRC services to clients as an advisor
Managing risk registers across multiple teams
Managing compliance regulations or certifications across multiple product lines, business units, or teams
Reporting on GRC programs across hierarchical organizational structures
Managing sensitive projects and authorized personnel access across GRC programs
How does Hub & Spoke work?
6clicks Hub & Spoke
The pioneers of true multi-tenanted GRC
Manage your organization's risk and compliance function across distributed teams or businesses. Designed to grow with you, 6clicks Hub & Spoke provides both flexibility and control.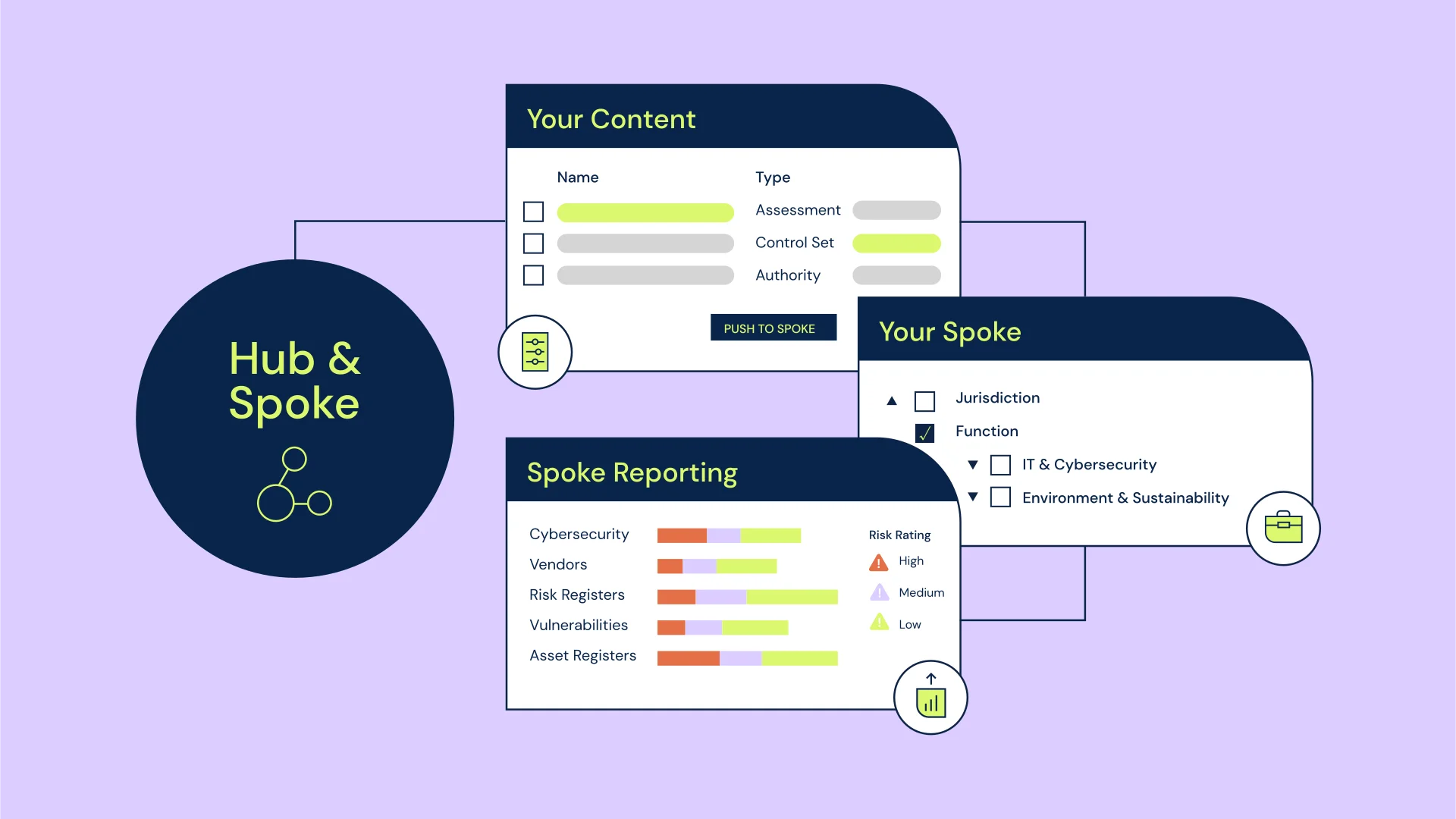 Work your way
Define best practice workflows and custom fields at the hub level and enforce them down at the spoke level (teams, departments or businesses), as well as discreetly manage user access across your spokes.
Control and distribute content
Create and manage content (assessments, control sets, authorities, playbooks and more) from the hub and distribute to your spokes, or use our content from the 6clicks Content Library.
Roll up reporting
Aggregate reporting from across your spokes at the hub level and use hierarchical spoke groups to define your organizational structure for more flexible reporting, creating a single-pane-of-glass view across your GRC landscape.
The 6clicks Hub & Spoke Expert Guide
Learn the what, how and why
This expert guide helps organizations through the Hub & Spoke model, how to architect Spokes to meet their needs, and best practices for deployment.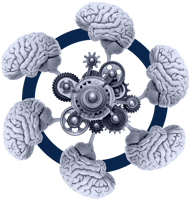 Frequently asked questions (FAQ)
What is 6clicks Hub & Spoke?
6clicks Hub & Spoke is a unique model that lets organizations centralize their risk and compliance function while overseeing and managing multiple teams, departments or businesses. It offers organizations a flexible way to run GRC programs across distributed entities and use cases.
What are the benefits of Hub & Spoke for GRC?
Hub & Spoke lets organizations run GRC programs across different entities. It helps to streamline, automate, and closely manage GRC programs. It also scales and grows with you, providing a flexible and cost-effective platform built to optimize and automate risk and compliance, regardless of your organization's size.
What sort of businesses benefit from Hub & Spoke?
Hub & Spoke is ideal for all organizations managing a risk and compliance function that oversees distributed teams, departments or businesses, regardless of industry. For any distributed business that wants to enforce best practices, optimize and automate risk and compliance, and require rolled-up reporting and analytics, 6clicks Hub & Spoke is perfect.
How does Hub & Spoke work for consultants, advisors, systems integrators and managed service providers?
6clicks offers a white-labelled Hub & Spoke environment that allows our partners to provision and manage all GRC-related client engagements and services centrally from the hub. Client teams (spokes) can be created from templated teams designed for specific offerings, minimizing setup time. Advisors can then easily be granted access to client teams, and client users can be invited into their team at the right time, depending on the engagement. Build customer stickiness and revenue share with us through the 6clicks partnership program.
Why would I choose Hub & Spoke over other licenses like Growth?
The 6clicks Growth license is perfect for small to medium-sized organizations with a team managing a single GRC program. The Hub & Spoke license becomes the best option for organisations managing GRC programs across multiple teams, entities and jurisdictions and who require a single-pain-of-glass view across their entire GRC landscape.
What is a Hub, and what is a Spoke?
The 6clicks Hub & Spoke 'architecture' is designed and built for running distributed GRC programs. The hub provides a centralized 'parent' team, which oversees a number of 'child' teams called spokes. Spokes typically represent a team, department, service line, business or entity running a GRC program and require some level of separation and autonomy. The hub is where content, such as audits and assessments, control sets and risk and issue libraries are created and global configurations defined. These are then 'pushed' down to spokes, where daily GRC-related activities are undertaken. Team members at the hub can drop down into spokes they have access to support these activities. Additional team members can be added directly to spokes, limiting their access to a single spoke and providing flexible user access management options.
Moreover, spoke templates can be defined at the hub, which are 'shell' spokes with pre-populated content. Spoke templates expedite spoke provisioning and enablement, meaning you can spin up turn-key spokes in seconds. You can also define spoke hierarchies using spoke groups, which provide a powerful and structured way to define, manage and report on and across your organizational hierarchy (example below).