Choose 6clicks to meet your PCI-DSS requirements and ensure compliance
Streamline your PCI DSS compliance processes with an easy-to-use platform to implement your policies, manage assets, identify risks, issues and incidents, collect evidence, and automate your PCI Report on Compliance (RoC) with a single click
Design your ISMS by choosing from our hundreds of customizable templates

Identify and manage your information assets

Automate internal audits and vendor risk assessments

Identify, manage and treat risks

Identify overlap with other standards and frameworks using Hailey-AI

Find gaps in your policies and control sets using Hailey-AI
How you can quickly meet PCI-DSS requirements and ensure compliance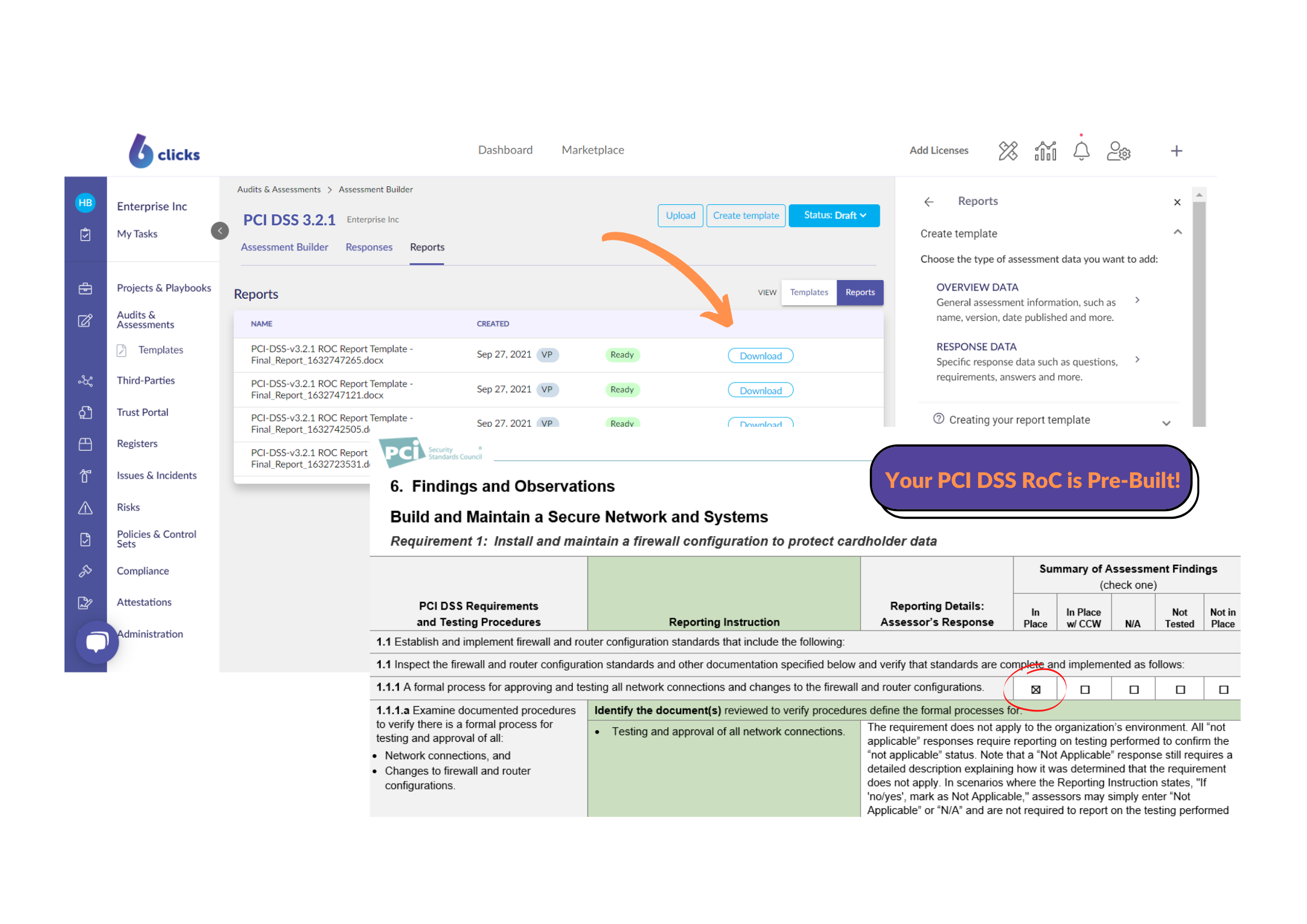 1. Assess
Assess your systems, clients, or entities, as required by the Security Standards Council, against the latest PCI DSS standard. Organizations with complex business structures or advisors with clients can complete this
assessment
down to the entity level by leveraging the 6clicks
Hub and Spoke
model.
2. Remediate
Manage, action, and maintain issues and risks identified in your PCI DSS assessment through the entire remediation lifecycle with 6clicks. Any issue or risk activity managed or actioned in the system links directly to the original assessment task, enabling organizations to maintain a holistic audit trail.
2. Report
Using the 6clicks Pixel Perfect reporting capabilities, organizations can automatically generate a delivery-ready Report on Compliance (RoC) based on their PCI DSS assessment. The ready-to-populate RoC template is included with the PCI DSS
in-app
content library
download.
6clicks is built to help you automate and
demonstrate compliance with PCI-DSS requirements
| Features | 6clicks |
| --- | --- |
| Conduct your PCI DSS assessments in 6clicks (SAQ or ROC!) | |
| Generate 'pixel perfect' SAQ and ROC reports directly from 6clicks | |
| Be audit-ready and confidently maintain your PCI DSS certification | |
| Move away from spreadsheets for managing your PCI DSS compliance | |
| Share the results of your assessments and your policies & controls in your very own Trust Portal | |
| Manage the full lifecycle of risks, issues and incidents | |
| Unlimited user licensing across all plans | |
| Unique Hub & Spoke architecture for easy distributed deployment | |
| Easy integration with 4,000 apps via Zapier | |
| IRAP Protected SaaS Offering for Australian Government & Defence | |
| Vulnerability management capability with Nessus & Qualys integration | |
| White labelling available for advisors and MSPs | |
Useful resources to help you meet and ensure compliance with PCI-DSS requirements
What is PCI DSS?
The Payment Card Industry Data Security Standard (PCI DSS) was developed to encourage and enhance cardholder data security and facilitate the broad adoption of consistent data security measures globally. PCI DSS provides a baseline of technical and operational requirements designed to protect account data. PCI DSS applies to all entities involved in payment card processing including merchants, processors, acquirers, issuers, and service providers. PCI DSS also applies to all other entities that store, process, or transmit cardholder data (CHD) and/or sensitive authentication data (SAD).

PCI SAQ Assessing and Reporting
Aug 03, 2022
PCI compliance got you down? Struggling to get started? Maintain? Still working out of spreadsheets? 6clicks is here to help.
Frequently asked questions (FAQs)